MC Escher Behang Collectie

MC Escher Behang, u ziet het goed. De schitterende ontwerpen van M.C. Escher zijn nu ook vertaald en geschikt gemaakt voor uw muur! Dankzij deze unieke behang collectie. Geniet in uw interieur van de onmogelijke dessins en de patronen die in elkaar over vloeien, zoals alleen M.C. Escher dat kan!
...


Maurits Cornelis Escher (1898-1972) is een van 's werelds meest beroemde grafici. Zijn kunst wordt bewonderd door miljoenen mensen over de hele wereld, getuige de vele web sites op het internet.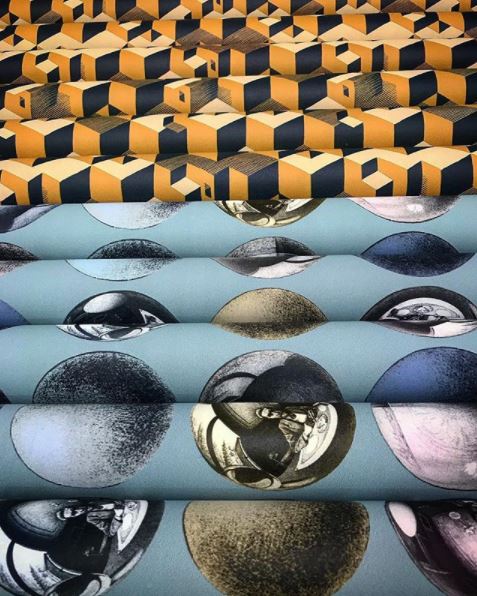 Hij is het meest beroemd om zijn zogenaamde onmogelijke tekeningen, zoals Klimmen en Dalen en Relativiteit, maar ook om zijn metamorphoses, zoals Metamorphose I, II en III, Lucht en Water I en Reptielen.
Maar hij maakte ook prachtige, meer realistische werken gedurende de tijd dat hij in Italië woonde en werkte.
Bijvoorbeeld de litho Castrovalva, waarin men al M.C. Escher's fascinatie voor voor hoog en laag, dichtbij en veraf kan zien. De litho Atrani, een klein plaatsje aan de Amalfitaanse kust in Italië, maakte hij in 1931, maar komt weer terug in zijn meesterstukken Metamorphose I en II.

Gedurende zijn leven maakte M.C. Escher 448 litho's, houtsnedes en houtgravures en meer dan 2000 tekeningen en schetsen. Net zoals sommige van zijn beroemde voorgangers - Michelangelo, Leonardo da Vinci, Dürer en Holbein - , was M.C. Escher linkshandig.

Naast zijn werk als graficus, illustreerde M.C. Escher boeken, ontwierp tapijten, postzegels en wandschilderingen. Hij werd geboren in Leeuwarden als de vierde en jongste zoon. Na 5 jaar verhuisde de familie naar Arnhem, waar hij het grootste deel van zijn jeugd doorbracht. Nadat hij gezakt was voor zijn eindexamen, en na een kort intermezzo in Delft, begon M.C. Escher met zijn lessen bouwkunde aan de School voor Bouwkunde en Sierende Kunsten in Haarlem.

Al na een week vertelde hij zijn vader dat hij wilde ophouden met zijn lessen bouwkunde en zich wilde toeleggen op de studie grafische kunsten. Hij werd hierin gesteund door zijn leraar Samuel Jesserun de Mesquita, aan wie hij zijn tekeningen en linoleumsnedes had laten zien. Nadat hij zijn school had afgerond, reisde hij langdurig door o.a. Italië, waar hij zijn vrouw Jetta Umiker ontmoette, en waarmee hij in 1924 trouwde. Zij gingen naar Rome, waar zij tot 1935 bleven wonen. Gedurende deze 11 jaar, reisde M.C. Escher ieder jaar door Italië heen, waarbij hij tekeningen en schetsen maakte, om deze later thuis in zijn atelier te gebruiken voor zijn prenten.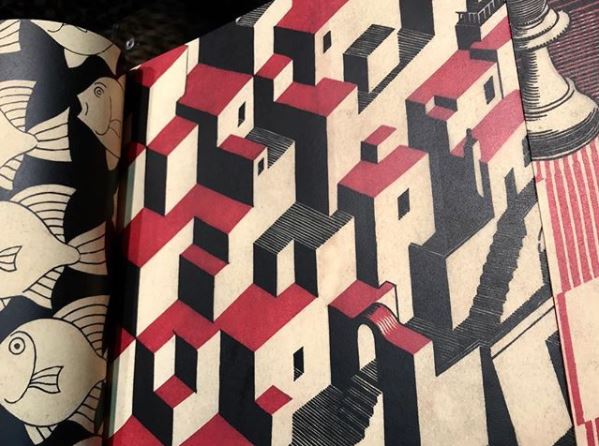 Veel van deze schetsen zou hij later ook weer gebruiken voor zijn litho's, houtsnedes en houtgravures. Bijvoorbeeld de achtergrond in de litho Waterval (1961) komt uit zijn Italiaanse periode. Ook de bomen die gereflecteerd worden in de houtsnede Modderplas (1952), zijn dezelfde bomen die hij gebruikte in zijn houtsnede Pineta van Calvi, die hij maakte in 1932.

M.C. Escher werd gefascineerd door de regelmatige geometrische figuren van de wand -en vloermozaïken in het Alhambra, een veertiende-eeuws kasteel in Granada, Spanje, dat hij in 1922 bezocht.

Tijdens zijn jaren in Zwitserland en gedurende de hele Tweede Wereldoorlog werkte hij met veel energie aan zijn hobby. Hij maakte toen 62 van de in totaal 137 symmetrische tekeningen die hij zijn leven zou maken. Hij breidde zijn hobby ook uit, door deze symmetrische tekeningen te gebruiken voor het snijden van houten bollen.

Hij speelde met architectuur, perspectief en onmogelijke ruimtes. Zijn kunst blijft miljoenen mensen over de hele wereld verbazen en in verwondering brengen. In zijn werk herkennen wij zijn uitstekende observatie van de wereld om ons heen en de uitdrukking van zijn eigen fantasie. M.C. Escher laat ons zien dat de werkelijkheid wonderlijk, begrijpelijk en fascinerend is.

MC Escher Wallcovering Dessins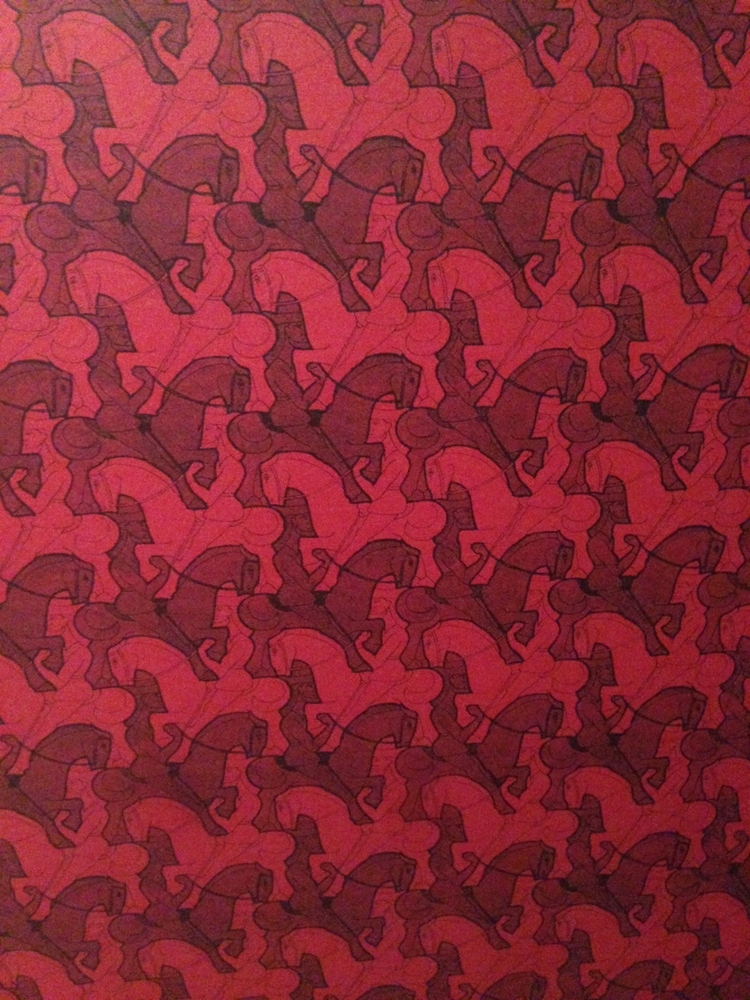 The MC Escher wallcovering designs that will make part of the MC Escher wallcovering collection are: Horseman, Sphere, Drawing Hands, Clouds, Fish, Cube, Bound of Union, Up and Down, Fluorescent Sea and Sky & Water. Als ook Cube, Little Cube, Scales, Little Scales, Clouds, Sphere and Little Sphere.

MC Escher Behang is hier online verkrijgbaar en in onze behangwinkel.